Imagine this:
You're an HRBP and you've tried everything-- from Zumba classes to free medical camps, but your eNPS (workplace engagement survey) isn't showing any improvement, which means your workforce is unhappy, disengaged and highly likely to leave, but you don't understand where you're going wrong.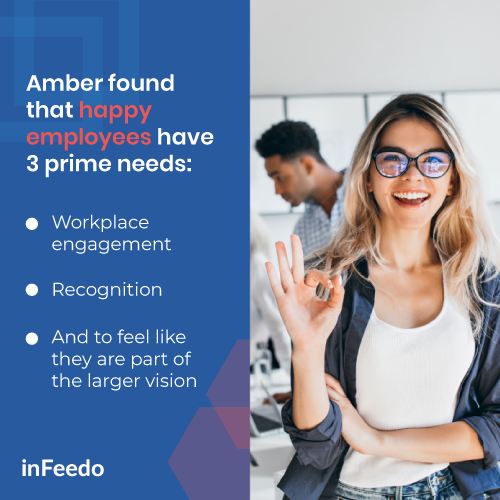 Employee engagement in the workplace is an art that human resource professionals around the world have struggled to crack. This is because even before the pandemic hit, keeping employees happy meant ensuring not just intellectual engagement but also emotional engagement in the workplace.
Well, the best employee engagement strategies often start with the realization that levels of engagement in the workplace are bound to go up and down. The only way to ensure that employees are happy is to look at an overarching strategy: that of building memorable employee experiences (EX).
Pause for a second: Is your workforce the happiest they can be? Build impeccable employee experiences with Amber through real-time pulse and actionable insights. 

Click here

 to get started.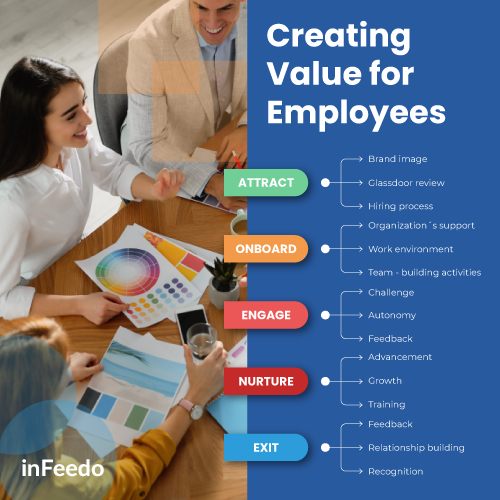 Employee engagement is the end goal while employee experience is the means to that end. It requires a culture where leaders and managers alike put themselves in the employees' shoes. Employee experience extends the approach to consider engagement at all touchpoints throughout the employee lifecycle.
The post-pandemic workforce needs extra TLC
Now that most workplaces are expected to remain remote or at best, go back to a hybrid model, how do you ensure that your employees are happy- in the office and at home? Can they bond with their teammates online? Can they resonate with the company vision and stay motivated the same as before COVID?
Psst! Here's 1 sureshot way to achieve employee feedback in the new world of work.
The post-pandemic workforce has been through a lot and certainly needs more TLC. Unfortunately, an all-human HR team cannot provide the 1:1 support employees need today. This is where artificial intelligence comes in. Have you heard of Amber, the AI-powered EX bot?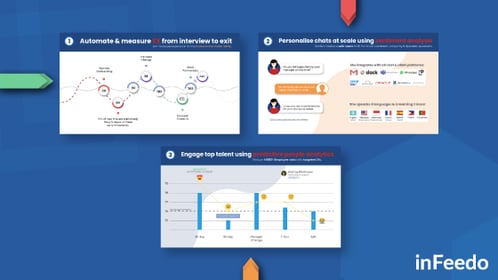 She helps CHROs find hidden gaps in culture, managers and employee well-being using AI.
She chats with remote employees and finds top talent that's unhappy or likely to leave.
On that note, here are the best employee engagement strategies to try if you're on a tight budget:
No guesswork. Ask your employees what they want.
Imagine if your date took you to a steakhouse even though you're strictly vegan. If you're offering benefits they don't need or conducting activities they have zero interest in, then employees won't feel engaged in the first place. There is no shame in asking your stakeholders what they want to see more. You'd be surprised at how many good ideas might pop up.
Do they want help with COVID vaccination? Arrange a vaccine drive.
Do employees with children at home feel burnt out? Give them Fridays off.
Have employees been feeling overwhelmed? Send them a surprise goody bag and give them half a day off!
You'd be surprised at how much the little things make a difference. But first, ask and you shall succeed.
Keep it quick and simple.
One company wanted to support their employees' mental health during the pandemic. Their idea? Employees were made to attend an hour-long lecture on 'Meditation and breathing techniques' from a prominent life coach late evening, well after their working hours.
What do you think happened? Most employees were too exhausted to pay attention to what was being said. Others sat through the session, but left feeling disgruntled. Unfortunately, the company's efforts, no matter how noble the intention, had failed miserably. They'd gone over their budget to hire a top-notch life coach and put in days' of effort towards planning and executing this session, and yet, the results were suboptimal, to say the least.
So what do you do? Till you get complete buy-in from employees, start with an activity that is quick and simple, like an online poker match between teams to ensure intellectual engagement in the workplace.
Employee-led teaching programs
Employees want to know they have access to opportunities, both formal and informal, to develop and that their leaders and managers are invested in their professional development.
Real life inspirations: Here's how Mark Heap, CEO and Sonia Fernandes, CHRO, enhance employee-first culture at MediaCom
So, here's what you can do:

Encourage employees to learn from each other. Identify classes and workshops that range from extracurricular skills to those that are essential to certain roles and then identify "mentors" and "mentees".
This fosters collaboration and team bonding, even in the remote world. You could even incentivize learning by creating tests that mentees must pass to be certified and rewarded with a gift card of a small value. Trust me, it's the gesture that counts.
Takeaway:
At the end of the day, employee engagement initiatives are all about active listening. When you take considered action in response to employee feedback, you assure your employees that you have both (figurative) ears open.
This is the key to creating a great place to work: Making your employees feel heard and valued.
This also happens to be our personal mission at inFeedo, something Amber has been doing for over 100 CHROs across 50+ countries and 300,000 employees.
Build impeccable employee experiences with Amber through real-time pulse and actionable insights. Click here for a free demo.