Our Content Specialist told me not to start most of my write-ups with Dilbert so I left Dilbert out of Dilbert. While I won on a meta technicality with this one, a lot of organizations might not when it comes to their recognition charters. Their technicalities are archaic rewards and recognition platforms, mandates for managers and departments, and gatherings that lose their meaning.
Largely, recognition induces cost discussions in HR leadership and that cost varies from one organization to another. Much like our employee experience framework where we keep employee at the center of experience delivery, we should also create a recognition framework which is not only seamless but also runs on low or no cost. Before we jump into planning for it, let's discuss the construct.
Employee recognition is timely, informal, or formal acknowledgement of a person's work, behavior, and/or impact that supports the organization's goals and values. It is a reflection of the quality of work done alongside the discretionary effort demonstrated by the person.
What really matters in the workplace is helping employees feel appreciated; appreciation being a fundamental human need.
Employee experience nosedives if rewards and recognition initiatives are superficial or an employee doesn't feel recognized by the...
Manager

Team

Organization


Gift vouchers. Gratitude notes. Coffee mugs. Certificates. Each of these is a form of employee recognition in organizations today. But what do organizations get in return for investing in rewards and recognition considering that R&R as a market has been growing at ~14% between 2016-2017 and is one of the fastest growing HR outsourcing markets today?
Most do not have the answer. Literature on recognition suggests a causal behavior that goes something like this...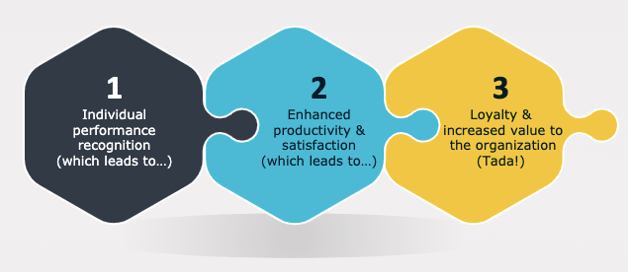 2 reasons why rewards and recognition programs/platforms hard to quantify
#1 Recognition, historically, has been a bottom-up approach, with individual departments or business units making decisions about when, why, and how to recognize employees. When you multiply all of these "little" initiatives across a large organization, the cost of a recognition program becomes massive; yet due to its highly dispersed nature, end outcomes become difficult to quantify.
#2 This highly fragmented recognition approach creates the perception that recognition is a "nice-to-have" local initiative. Annual events incur huge costs (centralized tenure awards, outstanding performance events), these programs make little impact for many organizations and, as such, take few efforts to measure the ROI.

In many organizations, this notion – that rewards and recognition make little impact – is right.
One reason for this is that the most common recognition programs, long service awards, or tenure anniversaries (programs that exist in almost all organizations) are frequently viewed by employees as an entitlement, not recognition. With an increasing millennial and Gen Z population entering the workforce, the need for a differentiated and personalized recognition program is absolutely critical for engagement (remember the recognition causality).
Rewards and Recognition programs can be an effective talent retainer, when done right.
With unlimited resources at hand, it'll be easy for a whole lot of us to craft the best possible types of rewards and recognition for employees (not all of us since money isn't everything). But, in the real world, where HR continuously struggles with budget approvals, when improving the bottom-line is more critical than a swanky offsite, there still are a myriad of ways the organization can implement non monetary rewards for employees and make them feel special and belonged.
2 key anchors to devise your rewards and recognition strategy on
Make sure it covers at least one of these three things: work, behavior, impact

Make sure you model your framework to touch ways to recognize employees at different organizational granularity: Manager, Team, Department, Business Unit, Organization
Let me now elaborate on what I like to call low-to-no-cost approach to building a reward system for employees. The list is not exhaustive but I am hoping will inspire you to devise your own and inculcate them at your organization.
Here's my Top 20 employee rewards ideas...
(You'll notice a lot of food suggestions. At inFeedo, I'm what you call an inFoodie)
Create gratitude notes for their contribution to work, co-workers, and workplace (multiple studies have shown the correlation between gratitude and increased well-being not only for the individual but for all people involved.)


Give them an extra long lunch break voucher which they can redeem any time


Provide candy or other snacks to your troops on a certain day every week. Take the opportunity to learn what your people are working on and recognize their good behavior


Send a letter of praise to their spouse/family (potent recognition potion)


Volunteer to do their least favorite task (for me that is data cleaning when I'm looking for feedback insights)


Remember their special days (birthdays, anniversaries) and write a message on a card


Pass around an office trophy to the employee of the week


Get their car washed and spruced up


Provide "Lunch on me" coupons


Buy lunch for them along with three or four coworkers of their choice


Give them a book from their favorite author


Send a handwritten note of praise (not a "thanks for all you do" letter, but a note with specific praise)


Create a 'Life Saver' Award (packs of Life Saver candies and a gift certificate) to an employee who pitched in during an emergency or staff shortage


Copy senior management to your thank you note to apprise them of the employee's efforts/accomplishments


Organize a department- wide water-gun fight in the parking lot in her honor (on a casual day)


Give her a standing ovation from the entire team


Submit information about your employee's achievement to the editor of your department newsletter


Give her movie tickets


Celebrate a promotion with an item that will be useful to an employee in a new position; for example, a first time manager might like a new day planner



Use this old classic: Say, "Thank you."

Send me your Top 20 at ajay@infeedo.com and if I like your list, I'll send you a scoop of your favorite ice-cream.
Also, here are some pictures if you want to visualize a happy, engaged workplace where employees feel heard and valued (that's the end goal of rewards and recognition programs anyway).