We had the opportunity to sit down with "brand builder, people developer, and tech adopter" Alex Png, Chief People Officer at Intrepid Group Asia, a rapidly scaling Singapore based Ecommerce company. It truly was an enlightening conversation on best practices for constructing cultures where employees' mental wellbeing, productivity, trust, empathy, and diversity are prioritized with organization wide buy-in.
As a prominent SEA HR leader with experience at established companies and startups alike, Alex brought a variety of unique and actionable insights to the table that we're excited to break down for you so you can plug them into your organization today. Four trends emerged as the anchors of our conversation:
The change in mindset about mental health and employee wellbeing in SEA
Creating the kinds of cultures that help companies win
The importance of considering and adapting to evolving ethics in the modern workplace
Building leaders who are simultaneously equipped to be empathetic and pragmatic
Let's dig in.
---
#1 Creating Awareness around Mental Health
How to Continuously Prioritize Employee Wellbeing in Your Organization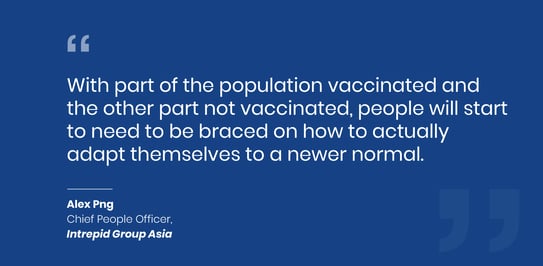 For Alex, the most visible and prominent observation from the pandemic related change in working habits and environments was how quickly Southeast Asia companies were forced to acknowledge their shortcomings in promoting employee wellness. For a lot of people there "definitely was a greater appreciation of the importance of really being able to help people embrace their mental and psychological well being," whereas before sensitive topics weren't addressed in the workplace. One of the largest factors in this situation was our natural reticence to have conversations around emotional topics, something that traditionally wasn't considered workplace conversation material from an organizational standpoint. In turn, as we break down this inertia around reach out culture, we'll see "more engagement practices that are targeted at different stages of a person's journey."
How can you prioritize mental health and employee wellbeing? As Alex puts it, it's all about buy-in. At many organizations leadership often "may not fully appreciate the importance or impact to the business" of employee engagement efforts and in turn "find it hard-pressed to justify the returns on investment." For employees, if the efforts are half hearted it may feel like a stopgap measure that means very little. The key here is baby steps.
It's about starting with small, crowd sourced and free initiatives. As both leaders and lower level employees begin to see the efficacy of the events and start to trust the vision behind it, it will be far easier to justify increases in engagement spend. When it comes to mental health, especially in markets like Southeast Asia where it's newly entering the conversation, building out engagement strategies to boost employee wellbeing is a must.
#2 Promoting Entrepreneurship that Fosters Learning
How to Build an Engaging Culture of Innovation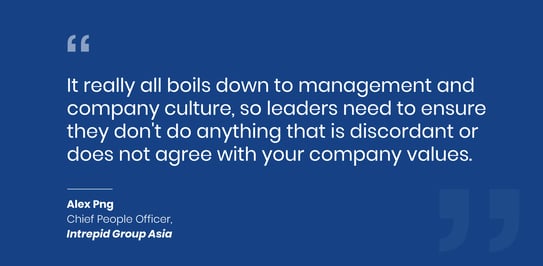 In our "newer normal," company culture takes on a more pivotal role in keeping employees engaged and productive. While traditional forms of culture development relied on in person attendance, and being in a centralized workspace helped organically build culture through day to day interactions and practiced ethics, you lose those advantages when you move to a partially remote workforce. So, how does Alex foresee building a culture while working remotely? Building trust, and bootstrapping fun and engaging activities to keep employees feeling appreciated and engaged.
Over time, Alex had observed a few disturbing practices in certain organizations "installing remote monitoring softwares" to track employee productivity. This is perhaps one of the greatest breaches of employee trust imaginable. For him, installing spyware "basically touches on the point of privacy intrusion and a breach of the employment relationship." He insists you cannot build trust this way nor can you count on this approach to improve your employee productivity.
Instead, Alex elaborates, one must measure outputs rather than inputs and respect that employees will perform without someone looking over their shoulders. Building an entrepreneurial culture and mindset consistently from the top is the best way to foster a reciprocal trust that will allow employees to perform to the peak of their abilities and ensure that, through employee driven success, reassures decision makers.
How do you build an engaging culture of trust and innovation? This could vary, depending on your team setup and company culture. In some companies, this manifests itself in a company wide hour of virtual games every Friday. Alex notes that this is a great, cost-effective way to get employees together virtually to laugh and compete and spend time together to build familiarity and fight WFH fatigue.
One particularly interesting viewpoint of Alex's was his stance on learning and development in the workplace. We often talk about L&D spend as a means to build better employees, Alex pointed out a few critical flaws in the way we may look at them. While providing resources for employee development are key, "it cannot replace other hygiene factors such as a great learning culture that fosters such developmental desires in the first place." As a result of your hiring efforts and cultural development, "an organization's top players and rockstars - aspirational or otherwise - yearn to learn and grow" naturally, so while providing resources for growth is key, making sure you've built a culture of continuous learning and hiring the right team members with a growth mindset will determine if your L&D programs sink or swim.
#3 Establishing Ethics that Includes Diverse Cultures
How to Leverage Technology to Remove Biases at the Workplace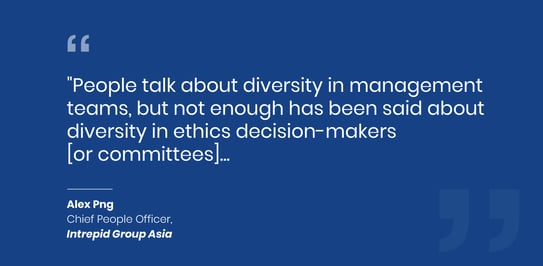 In the companies Alex has worked for, he strives to ensure they are constantly evolving their code of ethics and workplace conduct to stay in line with modern sensibilities, and allow them room to expand to new countries. The first step is making ethics front and center every step of the way. While older MNCs and conventional ways of thinking had programs like "compliance hotlines or email accounts," at the end of the day they often had low visibility which meant they "were not useful if no one actually sees it being used." So best practices thinking dictates that "it's important that ethics are actually available in every single touchpoint employee right from when a person signs on the dotted line to join as an employee." Coupled with a system of continuously managing employee experiences, making ethics a focus at every stage of the employee lifecycle will boost buy-in.
However, ethics and ethics governance needs to come from the top down. If leadership doesn't buy in it won't trickle down. Alex has seen "people talk about diversity in terms of management teams" very frequently, but that "diversity for ethics committees is something that is not talked about at all." Those determining the ethical guidelines of a company must also represent the diversity and sensibility of the entire workplace in order for it to be fair for all.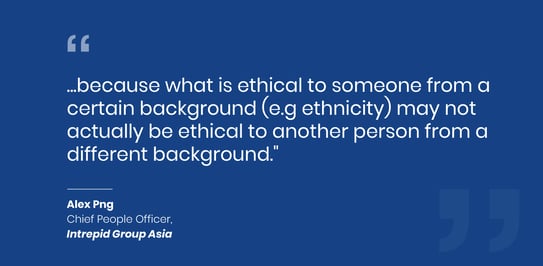 How can tech help remove biases at the workplace? HR tools, for example, that are powered by AI can be trained to see past biases around race, religion, gender, and such to help leaders harness concrete data to make fair decisions. Alex brings up an interesting point here where it comes to positioning AI at the workplace, "What goes into the algorithm is really always the key thing," to make sure that diverse viewpoints are included in its coding. AI isn't simply plug and play and will require strategic partnerships between the organization and the tech vendors to suit the ethical and diverse needs of a company.
For Alex, onboarding an AI means ensuring the vendor understands, "My organization's complex composition and what my organization's diversity and inclusion needs are," in order to make sure the tool eliminates bias and works effectively.
#4 Relying on Empathetic Leaders Who Always Communicate
How to Focus on Business Continuity & Nurturing Talent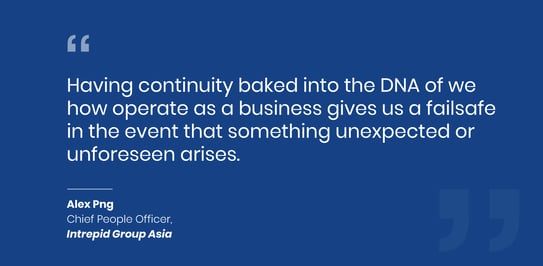 We quite directly asked Alex how organizations should be going about letting go of employees during such uncertain times. The first step, he mentions, is checking and double checking that if such an extreme decision needs to be taken at all. "Consider if it is something that fits into your six months, or one year plan down the road, in terms of the overall company goals. For instance, if you foresee a growth segment pretty soon - six months down the line, you can redeploy talents or consider contingent measures such as alternative work arrangements." If you do have to take such a call, make sure everyone, from the managers to HRBPs to C-Suite level partners are all on the same page when it comes to messaging and delivery. When "different parties say different things" it creates a lot of confusion for impacted employees and leads to resentment. Consistency in messaging and tone from the top down is a big part of keeping company culture on track.
How do you ensure business as usual while nurturing talent? For Alex, this means "having business continuity baked into our DNA." If we've learned anything from 2020, it's that at any moment the world could turn upside down. The businesses that will suffer in this case? The ones that don't have continuity plans in place. Alex has seen far too many "a mission-critical employee or a management staff [who] has to be taken out of action due to sudden illness, need to comply with quarantine orders, or having to take care of their loved ones?" Leaders must have an effective Plan B in place where all the employees impacted are ready to fill the gaps, which in turn creates further an ownership culture within the organization.
Moving Forward with a New Sense of Ethics
As we enter 2021 and a "newer normal," lessons in business continuity, remote culture building, strategies of ethical employee management, and empathy are already in practice. The war for talent will continue, and a diverse yet inclusive work environment will play a massive role in attracting the best people on board.
It was a pleasure discussing these topics with Alex, and we took away a ton from him on how to construct a better company for the modern work world. His burning passion to genuinely make workplaces better for all employees is inspiring, and we hope you can implement some of his strategies on improving the physical, mental, and emotional well being of all your employees.
The team at inFeedo is inspired everyday by and grateful for leaders like Alex who truly embody what it means to be employee-first today.