From having virtual meetings over Zoom to water cooler conversations on Houseparty, Covid-19 has forced millions to work and connect from the confines of their homes.

The good news? Studies1 have suggested employees that work from home can be more productive and can lead to a positive impact on mental and physical health. But these studies weren't conducted while there was an on-going pandemic. While working from home can be a boon, its downsides are employees working longer hours at a more intense pace leading to significant stress in their lives.2
Gamification To The Rescue
Gamification has the potential to stimulate stagnated minds and rekindle that vital spark so important for the workplace. Organisations can engage and motivate employees to pick up new skills, improve workplace behaviour, and devise new ways of problem-solving.
Research3 suggests that over 90% of employees are more productive when gamification techniques are applied, with over 72% of them reporting it inspires them to work harder.
Gamification techniques use positive reinforcement to motivate employees. By breaking down large tasks into more manageable chunks, gamification stimulates the neural pathways to learn over time, and:

It builds team spirit and brings in a sense of healthy competition.

It allows employees to think outside the box and find novel solutions to existing problems.

It improves the feedback system and provides real-time appraisals that allow employees to assess themselves.
And this is only the tip of the gamification iceberg.
8 Gamification Techniques To Engage Your Remote Workforce



#1 Divide And Conquer
For any task that can be modularised, divide the work into independent chunks and engage competing teams to get the job done. This will have the desired effect of inducing employees to a competitive work ethic.
Here's a pro tip, create a slack channel for the competing teams to view each others progress this brings out the competitiveness in people.
#2 Levelling Up
Training new recruits can often be a big challenge. Gamification can help in this regard. Your entire training program can be broken down into multiple levels. As employees complete each level, they can be rewarded for progressing to the next. This makes new recruits more invested in the training process and allows them to pick up new skills.
A great example of this technique can be found in an implementation done by Salesforce.4 They have created a Gamification system where sales personnel begin using the system at the lowest levels of Chicken Hunter, and eventually level up towards the coveted title of Big Game Hunter.

#3 Rewards Galore
Everybody loves a gift, and demoralized employees can actually perk up once you give them the chance to win. Introducing a reward-based system that recognizes achievements will have the desired effect of getting employees back in the game (pun intended).
Take the case of Freshdesk5 which turns customer enquiries into tickets that are randomly assigned to employees for resolution. This morphs the entire call-receiving process into a game. By providing recognition and incentives to employees who perform well, Freshdesk has managed to increase engagement successfully.
#4 Weekly Quizzes
Meetings can get a little monotonous. The less interactive, the more monotonous a meeting can become. Turn meetings into quizzes. Engage everyone in the game, and see who is the most up to date on work matters.
Set a prize or even a cash incentive for the best performer. Soon you'll find employees looking forward to the next meeting. And this ends up fostering some healthy competition and keeps everyone well prepared.
#5 Social Recognition
Now that we are dispersed across the world, utilize social media for publicly recognizing employee achievements.
Reward them with a place of special mention on the company page, tag top performers in a Facebook post, and celebrate achievements on LinkedIn. Soon you'll find employees scrolling through to that time of the month again.
Bluewolf6 achieved maximum employee engagement on social using a gamification-based social media engagement program called #GoingSocial.
#6 Upskilling
In the current business scenario, employees need to upskill fast or be left behind. However, it has been generally seen that employees aren't always keen on learning new skills. By gamifying upskilling processes, businesses can drive better employee participation.
Deloitte infused gamification principles to ensure that employees register and complete courses within the Deloitte Leadership Academy program.7
#7 Conversations Always Helps
Communication is one of the biggest drivers of employee engagement. Unless HR managers take the time to establish coherent communication channels that answer employee queries satisfactorily, morale is bound to lag.
By using chatbots to create an employee engagement platform, HR managers can free themselves for other tasks that need immediate attention. And employees can get the help they need, whenever and whichever way they want it.
#8
Make Work Mission-Based
Team building is one of the major benefits of Gamification, and this can be best fostered through actual team-based exercises. When assigning work, pit teams in a friendly competition that encourages better performance.
Don't assign teams to projects; assign them to missions that need to be completed in time. By making work mission-based, you instill a sense of adventure in every piece of work.
Does Gamification Actually Work?
To ensure the safety of all our teammates amidst the coronavirus outbreak, we are now working from home for the last 3 weeks. For many, this wll be the first time they'll be working from home for such an extensive period. Our People team wanted everyone to be their most productive selves and the first step for that would be to create a designated workstation at home.

The #doyourdesk challenge: We had to set set up a place to work, click a picture of it, and post it on our company Slack channel with the above mentioned hashtag. The best workstation, the picture with the most number of likes, would get a prize.

And the results were spectacular!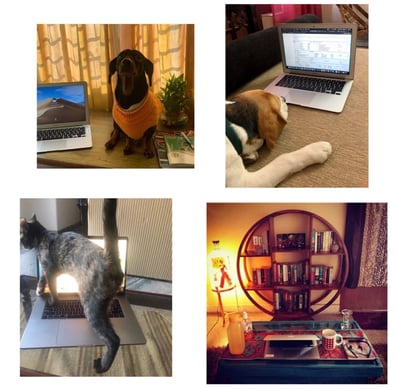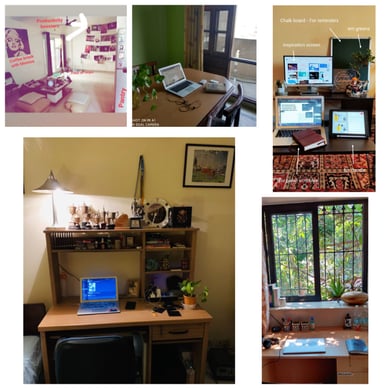 Not only were people excited to share what their dedicated workstations looked like, their pets participated too!

If you're curious here's what the winning workstation looks like.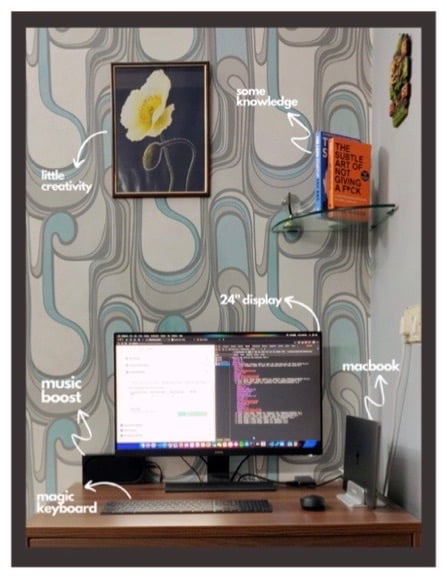 Something that seemed trivial in short-term has been significantly important for long-term productivity.
Could we have achieved the same level of engagement if we had sent an email instead of holding a competition? Most definitely not and it wouldn't have been as fun for sure.