2021 was obviously a whirlwind for not just the world but the HR function at large, as teams around the globe quickly jumped into action to make sure businesses continued to function. Now, as we emerge from the pandemic, it's time to look forward to 2022.
inFeedo recently hosted a dream panel of 4 prominent HR leaders on how to excite, motivate and exceed employee expectations this year:
Sonali Sharma, Global Insights at Uber
Amrit Jadika Arora, Head HR at Digital Insurance
Vasudhara Srivastava, SVP HR at Xceedance
Jolvin Rodrigues, Global HR Director and Co-Founder at LearningMate?
---
WATCH THE FULL RECORDING HERE:
#1. Motivating Employees by Creating a Sense of Ownership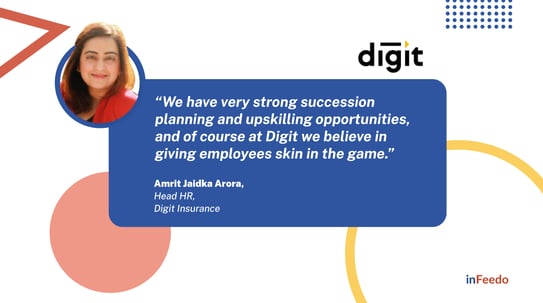 For Amrit and her team at Digit Insurance, one of India's newest unicorns, it's about creating a balanced employee stock option program that rewards long tenured employees and provides an aspirational goal for newer employees to stick around. By setting up the possibility of at one percent owning a small stake in the company you will excite and motivate your employees to kick ass in any role they take on.
For Vasudhara, making sure that the increments were far "more than what the market was offering" her and the leadership team at Xceedance showed how much they value their employees and creating a mindset of continuous improvement and growth for 2022. Rather than lowball employees, rallying them around increased increments helps them visual larger business goals and the role they can play in achieving them. It sends the message that Xceedance is here to grow, and by staying onboard there's room for growth and incentives over time. That's an exciting proposition, to say the least!
#2. Creating a Flat Structure with Constant Employee Communication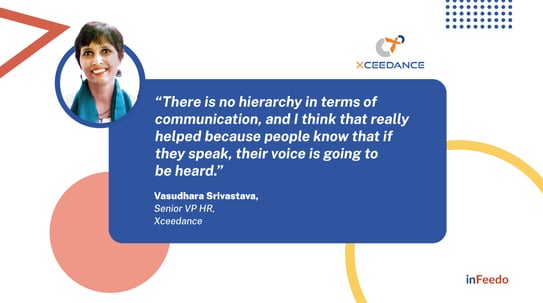 One of Vasudhara's keys to flattening out Xceedance's organizational structure was creating an environment in which communication is constant and hierarchies don't get in the way of raising concerns. Her and her team have worked to "create very open communication channels where employees can directly come and speak to anybody in the organization, from the CEO, to the team manager to anybody" else within the organization.
Rather than giving feedback to a direct +1 or HR member that gets lost in the shuffle and never results in substantive changes trust erodes and in turn so does engagement and productivity. For Vasu and her team, continuing to build out these lines of communication will help get Xceedance's workforce excited to dive into 2022 knowing that their concerns will be resolved.
#3. Building a Culture of Continuous Listening to Ensure Employees are Heard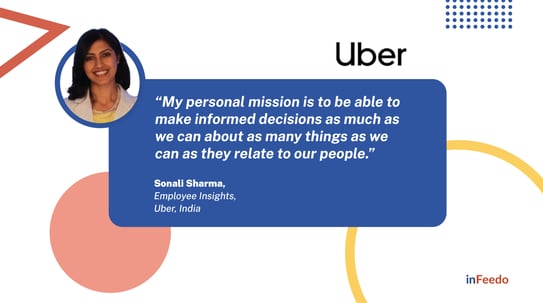 At Uber, Sonali and her team have spent the last year doubling down on their consistent listening efforts in order to ensure that all members of the organization are regularly asked about their roles, and what is and isn't working. By asking constant questions like "How do you identify groups or segments or personas that are actually struggling? What are their specific requirements? How can they be supported? What are their unique needs?" you're constantly isolating and identifying struggling members of the company and helping resolve their issues both inside and outside the workplace.
Having as much data as possible is what makes Sonali and her team able to keep Uber's workforce engaged and excited. By "ensuring that action taking around sentiment is owned all across the organization" they're also showing the results that continuous listening has provided and will ensure employees feel valued moving forward into the new normal.
#4. Bootstrapping and Crafting Engaging Initiatives to Build Culture Remotely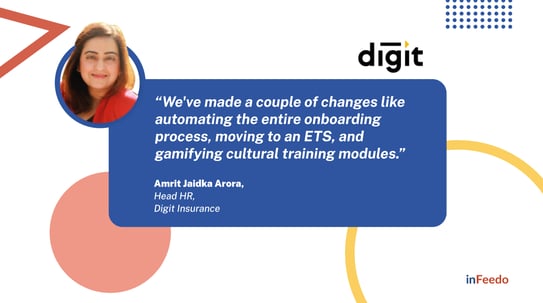 As India's first reported unicorn of 2022, Amrit and her team knew that if they were going to be hiring new employees at Digit Insurance, they needed a killer remote onboarding process that quickly indoctrinated new team-members into the organization culture. Beyond having a strong value system that new hires learned as they spent time working in the organization, they needed something with a little pop to get new employees off on the right foot.
So how did they cut through the rigamarole of 60 page fire safety codes and other elements of company policies that are not as relevant in our modern work environment? Gamification! The HR team at Digit actually created their own digital board game to get new employees up to speed in a fun and engaging way. We want a copy!
#5. Building Agility and Relying on a Core Leadership Team to Keep Employees Motivated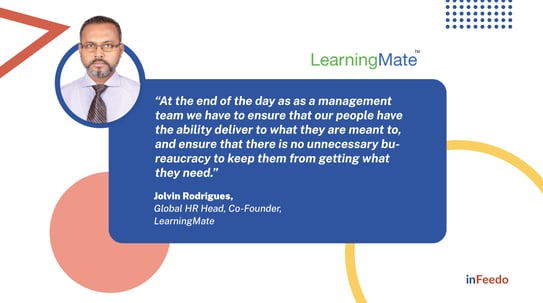 At LearningMate, Jolvin and his team focused on quickly and frequently making decisions in order to ensure business rolled forward during the pandemic. In order to most efficiently do so, they regularly gathered the core management team to make plans and ensure they were communicated efficiently and consistently. It was, as Jolvin said, about "tearing the furniture out of the way" and making sure that key business levers were focused on and moved.
The leadership team at LearningMate knew that preparing and maintaining an ideal work from home structure required an immense amount of trust in their employees, but Jolvin and the rest of the core group relied on their value system and saw no decreases in productivity. How can you make sure that you're prepared to make agile decisions in the event of any major change to your organization's functioning? Strip away the bureaucracy, use strong best practices thinking, rely on your core values and let your employees know that you're doing everything you can to support them to make sure they stay excited about their work.
---
We loved the candor and variety of viewpoints our speakers brought to the table for this session, delivering to our attendees a multitude of strategies, best practices thinking, and learnings from the past year to help keep employees excited moving into the future. As the newer normal continues to emerge it's crucial we continue to build from a place of empathy when it comes to handling a workforce, as all the leaders stressed. Keeping employees excited means thinking about their needs and giving them a voice, so make sure that you're constantly considering what they need to succeed in order to get your workforce to give it their all in 2022.
Want some help from an AI chatbot to help you keep your employees excited about the new normal? Book a demo here and see how Amber could help you today.
WATCH THE FULL SESSION HERE: